7in1 from Colapz - the ultimate cutlery
In the Spring I took part in a crowdfunding project again - as so often there was a delay here and there - but finally two pieces of cutlery arrived in the autumn ;-)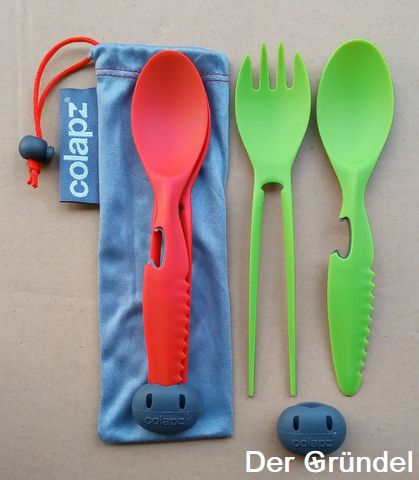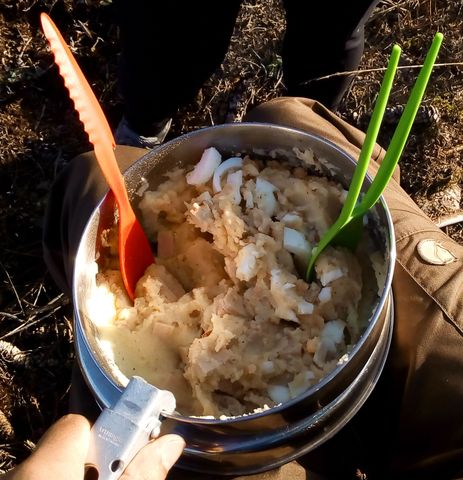 The unique thing about this cutlery from Colapz are, on the one hand, is the chopsticks which are well suited for these Asian noodle nests in this country, and on the other hand, the fork and spoon can be put together to form salad/grill tongs. I had seen the latter at Tupperware and learned to appreciate it in everyday party life.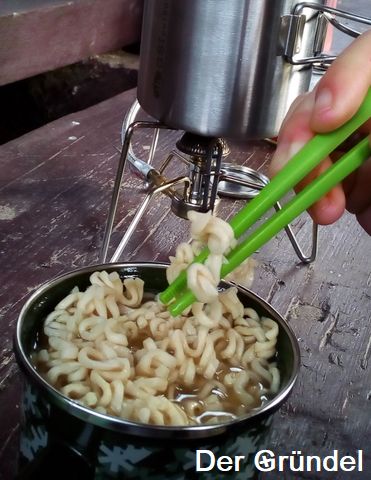 The set is titled 7in1 by Colapz and these are the functions mentioned:
- Salad tongs
- chopsticks
- bottle opener
- Knife with serrated edge
- Knife with a straight blade
- spoon
- Fork
... but actually there is an 8th - the fork which is also a spoon, and a 9th - the bottle opener can be used as a support for hanging on vessels.
In total, it weighs 51g, which is divided into the knife & spoon at 17g, fork & chopstick at 12g, silicone pebble at 13g and storage bag at 9g.
At 19cm in length, it is in the middle of my camping cutlery sets.
It is made of reinforced nylon and can be recycled with code 7.
Unfortunately, this was neither noted on the cutlery nor on the cardboard box. As an interested user, I was able to find out about this on request ;-)
A version made from a biodegradable plastic is planned for the future!
And the 7in1 is dishwasher safe too!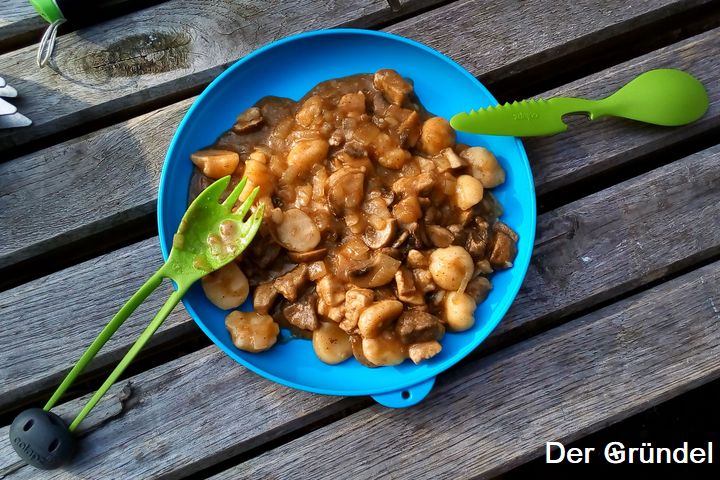 In terms of handling, the fork & spoon is very straight, which takes a bit of getting used to at first.  
The serrated edge blade in the hand is just as unusual when you use the spoon-knife tool as a spoon or bottle opener.
The bottle opener can also be used as an support to hang the spoon on the edge of a container.
If you leave the grey silicone pebble and storage bag at home and thus do without the salad tongs, it falls into the lightweight category at 29g.
In terms of price, it is also in the middle range at £ 15 and can be ordered via the Colapz website.
Conclusion: Due to the range of functions, I find it ideal for tours with micro-campers and the mobile HQ where there is also salad on offer, plus it comes with a simple zip lock bag on ultra-light trips ;-)